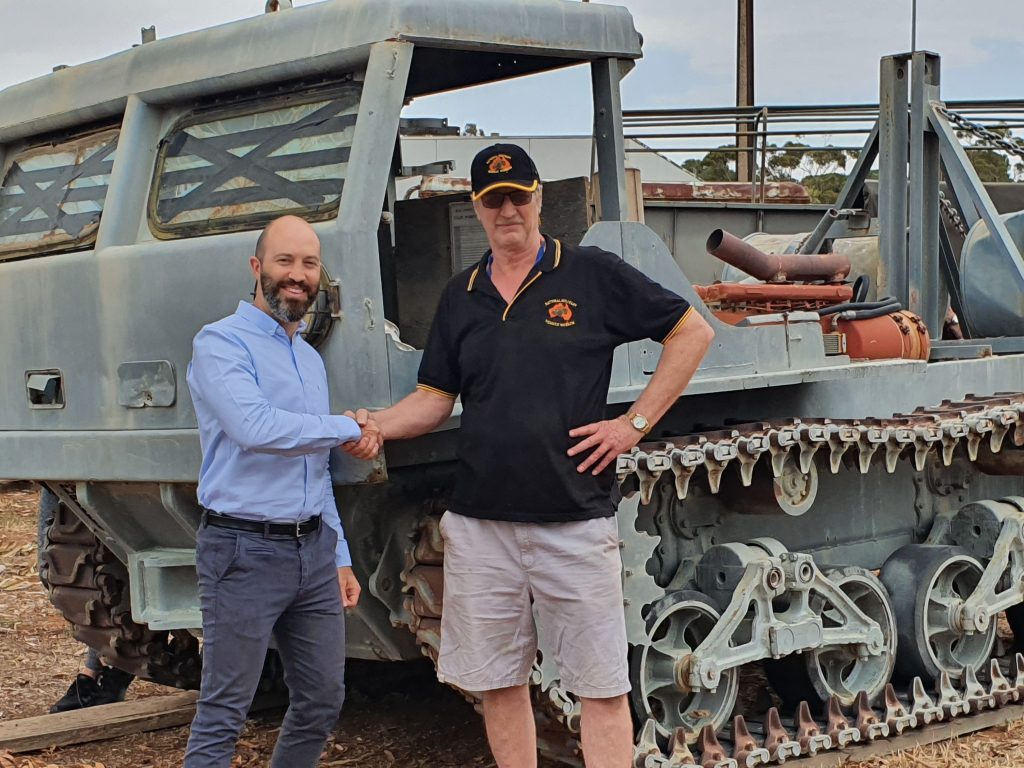 SANTOS M4 High Speed Tractor
The Museum's latest arrival are 2 M4 High Speed Tractors. These have been kindly donated by Santos and for many years have been on display at the Moomba airport. The vehicles were used to tow water trailers from Coopers Creek to the newly developed oil well in the Simpson Desert. The search for oil was unsuccessful but they did find large quantities of natural gas and the Moomba operation is one of the world's larger gas fields. The tractors were abandoned in the desert until one of the Moomba fire officers saw them and had them brought into Moomba along with the first drill rig used on the field, which had also been abandoned in the desert.
Jeff Pinney (the museum's Public Relations Officer), through the efforts of Tony his brother-in-law had arranged the donation and transport of these tractors to our site. After being abandoned in the desert for a long time and they have suffered at the hands of scavengers and the elements. The Santos M4 High Speed tractor is a full tracked vehicle designed as a prime mover for towing heavy artillery. They were only in production during WW2. One of the five guns towed was the 155gun carriage, one of which is on display at the entrance to the Port Wakefield Proof range.
The vehicle uses the same tracks idlers road wheels and front and rear sprockets as the M3 and M4 tanks of WW2. The suspension was unique to the M4. They were developed in response to a desire by the artillery to move guns by tracked vehicles which could traverse difficult terrain when emplacing artillery. The tractor was powered by a six cylinder Waukesha petrol engine of 817 cubic inches. Power was transmitted via dry clutch to a torque convertor to 3 speed transmission and final drive. This is a very rare vehicle in Australia and parts are going to be very difficult to obtain. For those interested there are some great Utube images of operating M4'sand one under construction.
The M4 18-ton High Speed Tractor was designed as a prime mover for towing large field artillery guns such as the 90mm Anti-Aircraft gun, the 155mm Long Tom, the 8in. Howitzer, or other heavy weapons (See the Towed Artillery Chart). In addition to moving the gun, the M-4 High Speed Tractor carried ammunition in cargo space racks. Ten men plus the driver could be carried. The M-4 HST was manufactured by Allis-Chalmers Mfg. Co. of Milwaukee, WI starting in 1942 and was in U.S. military service until approximately 1960.
The M-4 High Speed Tractor was equipped with air and electric brakes that would match any types of brakes on the towed load.
An anti-aircraft .50 cal. machine gun on a ring mount was accessed through a hatch above the crew compartment.
Specifications of the M-4 High Speed Tractor
| | |
| --- | --- |
| Crew | Driver |
| Weight | 31,500 lbs. |
| Height | 7 ft, 10 in. |
| Width | 8 ft, 1 in. |
| Length | 17 ft, 2 in. |
| Engine | Waukesha 145GZ 6 cyl. gasoline |
| Horsepower | 210hp |
| Road Speed | 35 mph |
| Range | 180 mi. |