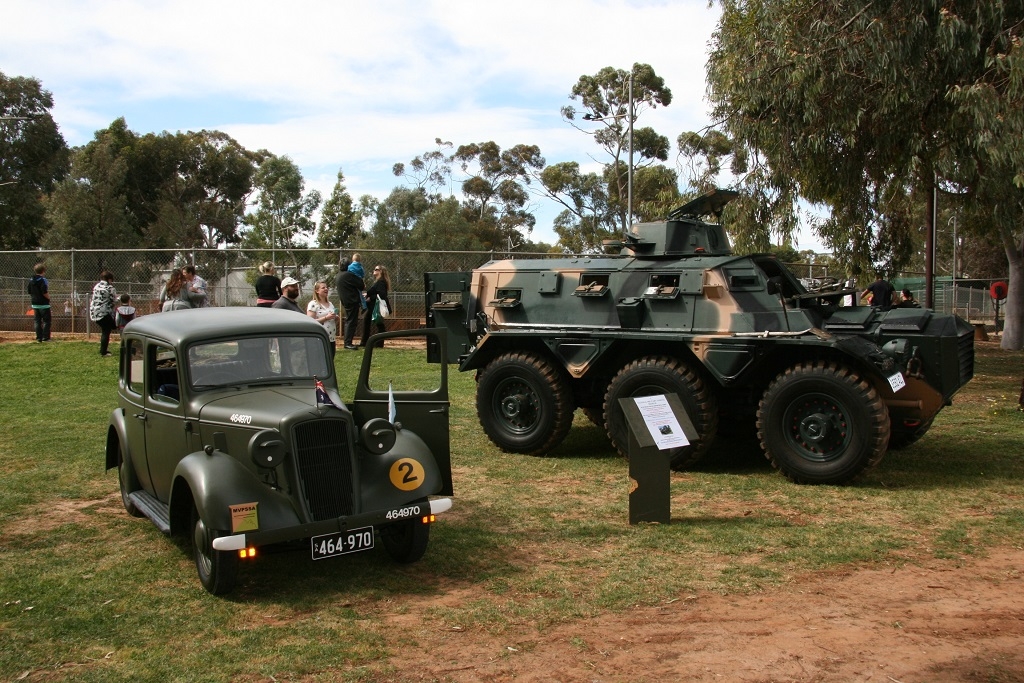 On Sunday, Russell, our Secretary and Terry, our Webmaster, visited the Penfield Park Railway, during their monthly open day in order to promote our museum, and our upcoming open day on the 14th of September. To make the visit more interesting and to appeal to the public a little more, we took along Russell's 1938 Austin Ten Staff Car and Terry's 1953 Avis Saracens Mk 5 APC. It was a great visit with lots of interest generated in the vehicles and the museum; particularly the monthly open days.
We really enjoyed the visit and were really impressed by the facilities at the Penfield Park Railway and would like to thank the members of the Penfield Model Engineers Society for inviting us and making us feel very welcome. Russell even managed to find a source for an engineer's hat! Unfortunately, due to a conflict with the Bay to Birdwood, we probably won't be able to attend the Railway's next open day, but we are keen to be back again in October.
The Penfield Park Railway has over 2 Km of track on their property, which incorporates tunnels, bridges and other features and unlimited train rides are included in the cost of entry. They also have a radio controlled sprint car track, canteen and BBQ facilities, and are very well suited to kids birthday parties. They are open on the last Sunday of every month (except December), and have several twilight open days each year; more details can be found on their website.