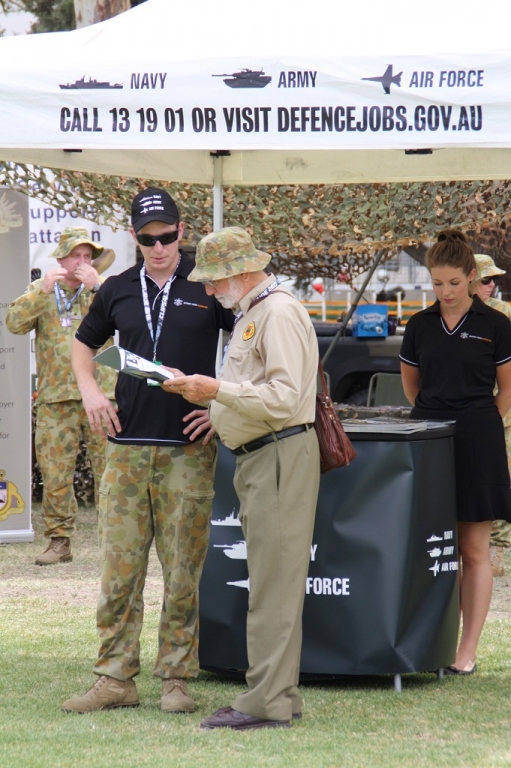 We attended the Clipsal 500 for 5 days. This is the article for Day 2, the Friday the 27th of February. See below for the others.
| | | | | |
| --- | --- | --- | --- | --- |
| Wednesday | Thursday | Friday | Saturday | Sunday |
| 25/02/2015 | 26/02/2015 | 27/02/2015 | 28/02/2015 | 01/03/2015 |
| Published | Published | Current | Not yet available | Not yet available |
Friday brought out the weather that the Clipsal is famous for – 35 degrees with fair humidity made it fairly uncomfortable for everyone and most people were looking for shade. We were somewhat jealous of the Air Force and their large, air-conditioned tent.
Numbers were up from Thursday and we handed out a lot of flyers to interested parties, many of whom indicated that they might attend the GM Day in April.
The promo girls were out in force and were keen to have their photos taken with the vehicles.
There was, of course, plenty of action on the track too, including the crazy ( Paris to Dakar rally style) trucks, which were lifting their front wheel off the ground when accelerating and making huge jumps – they were very popular with the crowd.
It was great to have cold water available thanks to the RAAF, the heat certainly made that a necessity.
There are some pics from the Ferrari display and the new LaFerrari, at a special price of around $1,000,000!