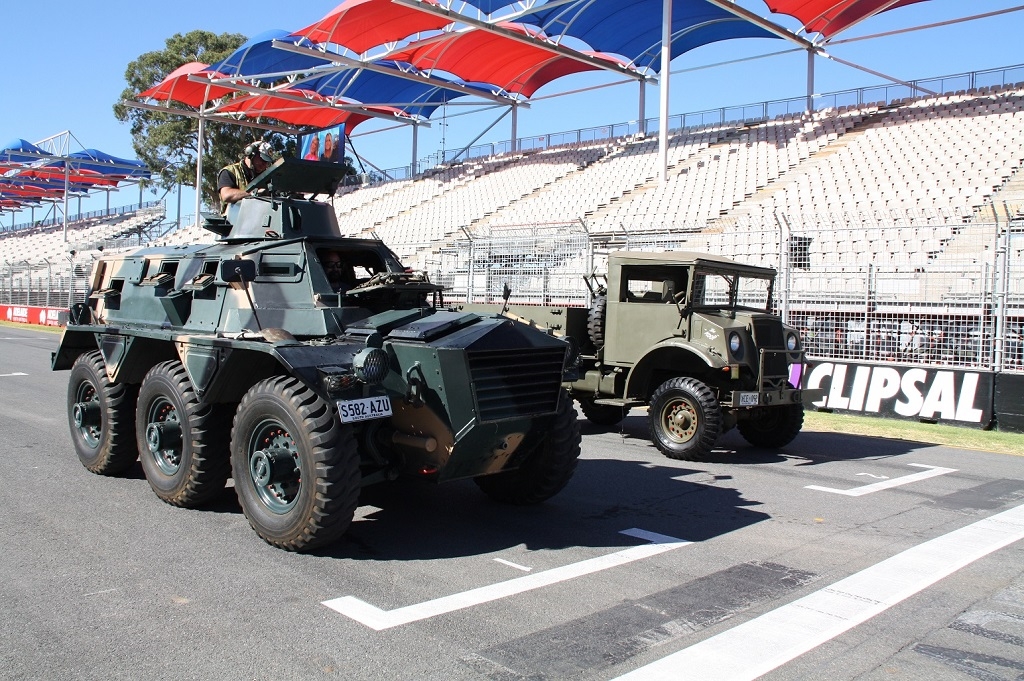 We attended the Clipsal 500 for 5 days. This is the article for Day 0, the Wednesday the 25th of February. See below for the others.
| | | | | |
| --- | --- | --- | --- | --- |
| Wednesday | Thursday | Friday | Saturday | Sunday |
| 25/02/2015 | 26/02/2015 | 27/02/2015 | 28/02/2015 | 01/03/2015 |
| Current | Published | Not yet available | Not yet available | Not yet available |
It was an early start on Wednesday with Russell, Mike and Terry arriving at the museum at about 0730 to do some preparation and checks on the vehicles, with Terry and Mike in the Mk 5 Alvis Saracen and Russel in the C15A "Koop" Blitz. It was noted that the Koop was a little low on fuel, but Russell figured that it would probably be ok to make it to the nearest service station. Terry wasn't so sure and insisted that he carry a jerrycan – this proved to be fortuitous, as the Koop ran out of fuel at the intersection of Commercial Road and Salisbury highway. Russell quickly put some fuel in while sitting at the traffic lights and then managed to get the Koop running again, before making it to the BP on Salisbury Highway, where both vehicles were refuelled.
At the service station, the vehicles got plenty of attention, as usual, including from a couple of police officers that were there getting their morning coffee.
With full tanks of fuel, the vehicles had a good run into the city in the morning traffic and plenty of people were waving and taking photos.
The Koop and Saracen arrived onsite at approximately 0945, with no sign of Darryl, Janice and their Jeep, so we made our way onto the main straight for a "PR Shoot", with the Saracen in pole position, and the Koop in second place… This got plenty of attention and cheering from the crews that were setting up in Pit Straight.
After that fun, we moved on to the ADF Oval, followed closely behind with Darryl and Janice arriving in the Jeep. There were a few false-starts to our setup, as the ADF had us move around a few times to make room for their displays, before moving us to a great spot opposite the RAAF tent, next to the sideshows – It had us "with" the ADF, but also in our own area and allowed us to differentiate ourselves from their display somewhat. We moved the vehicles in to place, setup up our tent and were loaned a brand new TV by the ADF for putting on a looping video. We were all set for the start of the event on Thursday and departed at about 12:30.