Museum Open Day – WW1 Centenary Event – 100th Anniversary of the Battle of Beersheba
October 29, 2017 @ 10:00

-

16:00

$15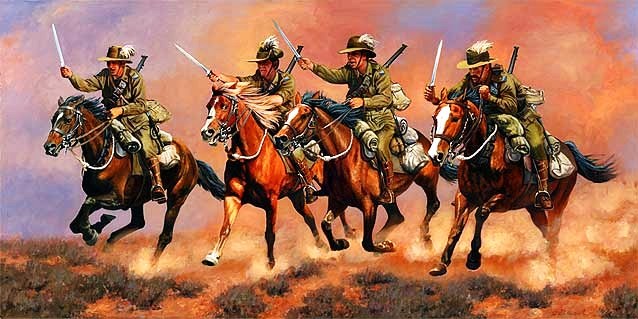 "THE CHARGE" © 2006 Ron Marshall – www.lighthorseart.com.au
Honouring all light horse regiments
On the 31st of October, 1917, the Battle of Beersheba was fought in Ottoman Syria, resulting in the successful capture of the town of Beersheba by the British Empire from the troops of the Ottoman and German Empires. This battle included the infamous and successful charge of the 4th and 12th ANZAC Light Horse Regiments, armed only with hand-held bayonets and supported by British artillery, against Ottoman trenches.
Free parking available
Food and drinks available
Activities include:
Antique weapons and uniform displays
Military vehicle manoeuvres
25 pounder field gun firing
The Barossa Light Horse Historic Association
Display of a Krupp gun (captured by the light horse)
Army Cadet display
ADF & static military vehicle displays
Artillery tractor displays
Barry Spicer military artwork display sales and signing
Re-Enact SA INC.
Military vehicle rides
Vietnam veteran (Cavalryman) Jeffrey Tun Tin book release – Luck's a Fortune (sales and signing)
2018 Fighter Femmes Museum Calendar launch
We will be fundraising for the museum and Hearts 4 Heroes.
Related Events